Source:
http://www.adiyamanli.org/ – All About Turkey and Adiyaman
http://www.adiyamanli.org/all_about_turkey.htm – All About Turkey
http://www.adiyamanli.org/main.html – All About Adiyaman
http://www.adiyamanli.org/turkiye_hakkindaki_hersey.htm – Turkiye Hakkinda Hersey
http://www.adiyamanli.org/turkish-turkce/main-turkce.htm – Adiyaman Hakkinda Hersey
Turkey is divided into provinces, an administrative system barrowed from France. There are 81 provinces (il) in Turkey. Each province is then subdivided into smaller administrative units called ilçe (district), roughly equivalent to a county in the U.S. Provinces are usually named after the biggest city in that province. The two other large subdivisions are also named for the biggest settlements in that division. Adıyaman is not only the largest city in that province, it is also that province's "central" district (ilçe). Each İlçe is subdivided into Bucak (like a township) and each bucak is further divided into villages (köy). Adıyaman has 9 districts (including the central one) and 12 bucaks (townships). All three major subdivisions of a province are governed by a centrally appointed administrator. Vali (governor) administers the province, kaymakam the districts (ilçe), and nahiye müdürü oversees the bucak. The governor (vali) also acts as the administrative head of the central district. Each major settlement in a province also elects a mayor, called belediye reisi. The mayors of these settlements deal only with the physical infrastructure of the cities while the government appointed civil servants are in charge of the courts, security and other central functions like census bureaus, public health, and public education. Following is a brief summary of the major political divisions of Adıyaman, starting with the central city.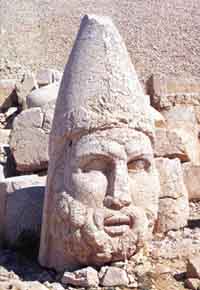 Central District (The city of Adıyaman): According to 1990 census the population of the central district of the province was 170,75 including bucaks and villages. However due to recent migration, mostly caused by the displaced villagers due to the Atatürk dam (part of Southeastern Anatolian project, called GAP), the population is estimated to be over 200,000. GAP has accelerated the economic activity of the city, especially in light industry. Adıyaman rapidly developed after becoming a province in 1954. Although it is now a fairly modern city, the major activity in the central district still remains to be farming and animal husbandry. Atatürk dam, 25 miles from the central city, combined with the deep historical roots of the region has made tourism an important activity for the city. Pirin caves and rock tombs are important historical sites in the central region.
HISTORY
Formerly HÜSNÜ MANSUR, Arabic HISN MANSUR, city located in a valley of southeastern Turkey. Founded in the 8th century by the Umayyad Arabs near the site of ancient Perre, Hisn Mansur was later fortified by Caliph Harun ar-Rashid and became the chief town of the area, replacing Perre. Ruled successively by the Byzantines, Seljuq Turks, and the Turkmen Dulkadir dynasty after the Arabs, it was incorporated into the Ottoman Empire near the end of the 14th century. Under the Turkish republic, it was renamed Adiyaman in 1926. The ruins of Perre are just to the north. The city is a local market for the agricultural products of the area.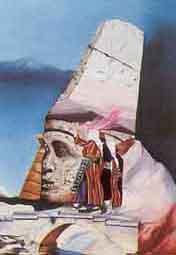 The region around Adiyaman contains mountains and plateaus drained by the Euphrates River and its tributaries. Products include cereals, cotton, tobacco, pistachio nuts, and grapes. Pop. (1990) 100,045.
Adiyaman is one of the oldest settlements in history, dating back to 40 th century B.C. Historical findings indicate that between 7.000 and 3000 B.C. Paleolithic, Neolithic and Chalcolithic Ages reigned in the area. It has been the host of many civilizations, including Hittite, Persian Kommagene, Roman and Byzantine. Founded at its present place, in thie 7 th century by the Ummayyads, Adiyaman later housed several empires and states, including Anatolian Seljuks and finally the Ottomans. In the republican era, Adiyaman had been a district of Malatya province until 1954. At that time it was given the status of province.
Chronology
From: To: Name:
B.C. 40,000 B.C. 7,000 Paleolithic
B.C. 7,000 B.C. 5,000 Neolithic
B.C. 5,000 B.C. 3,000 Kalkolithic
B.C. 3,000 B.C. 1,200 Hittites
B.C. 1,200 B.C. 750 Assyrians
B.C. 750 B.C. 600 Frigs
B.C. 600 B.C. 334 Persler
B.C. 334 B.C. 69 Macedonians
B.C. 69 A.D. 72 Kommagene Kingdom
A.D. 72 A.D. 395 Roman Imperial
395 670 Roman Imperial
670 758 Emevis
758 926 Abbasiler
926 958 Hamdaniler
958 1114 Byzantines
1114 1204 Eyyubuler
1204 1298 Seljuk
1298 1516 Memlukluler
1516 1923 Ottoman Imperial
1923 —- Turkish Republic
GEOGRAPHY
Situated in Southeastern Turkey, Adiyaman Province is flanked by the provinces of Diyarbakir (to the East), Malatya (to the North), Kahramanmaras; (to the West), Sanlizurfa anda Gaziantep (to the South). Eight districts are attached to Adiyaman. The land is rough and uneven, lowering from north to south. Along with the famous Euphrates, there are other rivers and creeks flowing in and out of the province. A sizeable part of the province's land, with its people and settlements, bordering Euphrates, were left to the artificial lake of the Ataturk Dam. The overall population of Adiyaman is 5690.386, according to the 1997 Census. The city center houses more than 213.596 inhabitants.
GENERAL TRANSPORT
There are air, rail and overland routes to Adiyaman. Golbasi district is the primary junction, on the main highway to Malatya, Kahramanmaras and Gaziantep. Rail connections are also made in Golbasi, through which Malatya – Adana railroad passes. The Airport has opened in our city There have been flights from Adiyaman to Istanbul via Ankara three times a week (Monday. Wednesday and Saturday)
CULTURE
Adiyaman has been the host of many civilizations throughout its history. Being a melting pot socially and culturally, it has valuable features related to customs about different periods of life, hospitality, folk dancing, carpets and kilims etc. Adiyaman is famous for its folk songs, folk dances and tombs (turbe). Different kinds of meatballs, such as "cigkofte, icli kofte, mercimekli kofte" and hitap (stuffed hot pie) are special local foods in Adiyaman.
In Turkish – Türkçe
Adıyaman, 1 Aralık 1954 yılında İl olmuştur. Adıyaman, tarihin bilinen en eski yerleşim yerlerinden biridir. Adıyaman Palanlı Mağarasında yapılan incelemelerde kent tarihinin M.ö. 40.000 yıllarına kadar uzandığı anlaşılmıştır bu Adıyaman'ın tarihte ne kadar önemli bir yere sahip olduğunun en önemli göstergesidir.
Yine Samsat ilçemiz Tepe'deki tarihi bulgulardan M.ö. 7.OOO yılına kadar Paleolitik, M.O. 5.000 yıllarına kadar Neolitik, M.Ö. 3.OOO yıllarına kadar Kalkolitik ve M.O. 3.0OO-1.200 yıllan arasında da Tunç Çağı dönemlerinin yaşandığı anlaşılmıştır. Bu dönemde bölge Hititlilerle – Mitannilar arasında el değiştirmiş ve Hitit Devletinin yıkılmasıyla (M.Ö. 1.200) karanlık bir dönem başlamıştır. M.Ö. 1.2OO'den Frig Devletinin kuruluşu olan M.Ö. 750 yıllan arası dönemle ilgili olarak yazılı kaynağa rastlanmamıştır. Ancak; bu dönemde yöre, Asur etkisine girmeye başladığından, Samsat'ta bulunan Asur etkili mühürler ve Kahta Eskitaş Köyünde bulunan Hitit Hiyeroglifi ile yazılmış kitabeler, Anadolu'daki tarihi silsilenin ilimizde de aynen devam ettiğini, göstermektedir. Bu dönemde Adıyaman ve çevresinde Hitit Devletinin yıkılmasıyla ortaya çıkan Geç Hitit şehir devletlerinden biri olan Kummuh Devleti hüküm sürmüştür.
M.Ü. 9OO-70O yılları arasında yöre Asur etkisinde kalmakla birlikte, Asurlular tam olarak egemen olamazlar. 6. yüzyılın başlarından itibaren yöreye Persler hakim olur ve yöre Satrap'lar (Valiler) eliyle yönetilir. M.O. 334 yılında Makedonya Kralı Büyük iskender'in Anadolu'ya girmesiyle Pers'ler hakimiyetini kaybetmiş ve M.ü. 1. yüzyıla kadar yörede Makedonyalı Selev-kos Sülalesi hüküm sürmüştür. Bu sülalenin gücünün zayıfladığı sıralarda, Kral Mithradetes l Kallinikos Kommagene Krallığının bağımsızlığını ilan etmiştir (M.O. 69).
Başkenti Samosota ve bugünkü adı Samsat olan Kommagene Krallığı, egemenliğini MS. 72'ye kadar sürdürmüş, bu tarihte yöre Roma imparatorluğunun eline geçmiş ve Adıyaman Roma imparatorluğunun Syria (Suriye) Eyaletine, 6. Lejyon olarak bağlanmıştır. Roma imparatorluğunun 395 yılında Batı ve Doğu Roma olarak ayrılmasıyla, Adıyaman Doğu Roma imparatorluğuna katılmıştır. 643 yılından itibaren bölgeye İslam akınları başlamakla birlikte İslam hakimiyeti ancak 670 yılında Emevi'lerle kurulabilmiştir. 758 yılında ise, II, Abbasi komutanlarından Mansur Ibni Cavene'nin hakimiyetine girer. 926 yılına kadar Abbasi hakimiyetinde kalan H'de bu tarihte Hamdanüerin egemenliği başlar. 958 yılında yöre yeniden Bizanslıların eline geçer.
1114-1181 yıllan arası yöreye Türk akınları olmuştur. 1204-1298 yılları arasında Samsat ve yöresini Anadolu Selçukluları ele geçirir ve yerleşmeye başlarlar. 1230 ve 1250 yıllarında Moğol saldırıları yaşanır. 1298'de yöre ve bölge Memlüklerin eline geçer. 1393 yılında Adıyaman bu kez de Timurlenk tarafından yağmalanır.
Büyük bir istikrarsızlığın olduğu Orta çağ boyunca Adıyaman Bizans, Emevi, Abbasi, Anadolu Selçukluları, Dulkadiroğullan arasında el değiştirmiş ve nihayet Yavuz Sultan Selim'in Iran seferi sırasında 1516 yılında Osmanlı topraklarına katılmıştır. Osmanlı topraklarına katılan Adıyaman, başlangıçta merkezi Samsat'ta bulunan bir Sancakla Maraş Beylerbeyliğine bağlıyken, Tanzimat'tan sonra bir kaza olarak Malatya'ya bağlanmıştır.
Cumhuriyetin kuruluşundan 1954 yılına kadar eski idari yapısı korunarak Malatya'ya bağlı kaza konumunda olan Adıyaman 1 Aralık 1954 tarihinde 6418 sayılı Kanunla Malatya'dan ayrılarak müstakil il haline gelmiştir.
Kronoloji
 
Buradan: Buraya: Dönemin Adı:
B.C. 40,000 B.C. 7,000 Paleolithic
B.C. 7,000 B.C. 5,000 Neolithic
B.C. 5,000 B.C. 3,000 Kalkolithic
B.C. 3,000 B.C. 1,200 Hittites
B.C. 1,200 B.C. 750 Assyrians
B.C. 750 B.C. 600 Frigs 
B.C. 600 B.C. 334 Persler B.C. 334
B.C. 69 Makedonyalılar
B.C. 69 A.D. 72 Kommagene Kırallığı
A.D. 72 A.D. 395 Roma İmparatorluğu
        395         670 Roma İmparatorluğu 
        670         758 Emevis
        758         926 Abbasiler
        926         958 Hamdaniler
        958         1114 Bizanslılar 
        1114         1204 Eyyübiler
        1204         1298 Selçuklular
        1298         1516 Memlukluler
        1516         1923 Osmanlı İmparatorluğu
        1923          —- Türkiye Cumhuriyeti
Adıyaman ili Orta Fırat bölümü içinde yer alır. Kuzeyde bulunan Çelikhan ile Gerger ilçesinin bir kısmı Doğu Anadolu Bölgesine, Batıda bulunan Gölbaşı ile Besni ilçesinin bir kısmı ise Akdeniz Bölgesine dahil edilmiştir.
Adıyaman ilinin Kuzeyinde Malatya ili (Pütürge, Yeşilyurt ve Doğanşehir ilçesi), Batıda Kahramanmaraş ili (Merkez ile Pazarcık ilçesi), Güneybatıda Gaziantep (Araban ilçesi), Güneydoğuda Şanlıurfa ili (Siverek, Hilvan, Bozova ve Halfeti ilçeleri), Doğuda ise Diyarbakır ili (Çermik ile Çüngüş ilçesi) bulunmaktadır. Merkez ilçe dahil 9 ilçesi ile 406 köyü vardır. İlçeleri Merkez, Besni, Çelikhan, Gerger, Gölbaşı, Kahta, Samsat, Sincik ve Tut ilçeleridir. Adıyaman ili 370 25' ile 380 11' kuzey enlemi, 370 ve 390 doğu boylamı arasında yer alır. Adıyaman ilinin yüzölçümü 7 614 km2 , göller ile 7.871 km2 olup, rakımı 669 m dir.
Eski coğrafyacı ve tarihçilere göre Adıyaman: Güneyde Arap Yarımadasından, Kuzeyde Toros sıradağlarına doğru uzanan Arap çöllerinin sona erdiği yerde, Toros sıra dağlarının eteklerinde verimli topraklar yer almaktaymış. Arap çöllerini kuzeyden bir ay gibi saran bu topraklara binlerce yıldan beri (Verimli Ay (Hilal) adı verilmiştir. Ortadoğu Ülkelerinin merkezinde yer alan cerimli Ay (Hilal) topraklarında Asya, Avrupa ve Afrika kıt' alarından gelen ana kara yolları birbirlerini kesmektedir. Tarih boyunca Verimli Ay (Hilal) bölgesi ana ticaret yollarının kavşak noktalarında, büyük ticaret ve sanayi şehirleri doğmuş, büyümüş, yıkılmış ve yerlerine yenileri kurulmuştur. Verimli Ay (Hilal) bölgesinin bir parçası sayılan Orta Fırat Bölümünün illerinde olan Adıyaman şehri, Cerimli Ay (Hilal) bölgesinin en üst sınırını oluşturmaktadır. Adıyaman ili uygun coğrafi özellikleri dolayısıyla tarihinin her döneminde insanların yaşamayı tercih ettikleri bir yerleşim bölgesi olmuştur.
http://www.adiyamanli.org/ – All About Turkey and Adiyaman
http://www.adiyamanli.org/all_about_turkey.htm – All About Turkey
http://www.adiyamanli.org/main.html – All About Adiyaman
http://www.adiyamanli.org/turkiye_hakkindaki_hersey.htm – Turkiye Hakkinda Hersey
http://www.adiyamanli.org/turkish-turkce/main-turkce.htm – Adiyaman Hakkinda Hersey